If any ardent MMA fan was asked to list some of the greatest fighters to ever fight in the MMA, Wanderlei Silva and Brian Stann are two names that cannot be omitted. Wanderlei Silva is a complete Muay Thai fighter, while Stann, who is an erstwhile Marine, is a methodical fighter with superb combat skills. In what could be regarded as one of the greatest fights of all time, Stann and Silva faced off at the renowned stomping ground in Saitama, Japan. This venue happened to be Silva's old base. Soon, the fight started, and as you would expect, both fighters were rolling out different forms of attack to defeat each other.
From the looks of things, it was very obvious that both fighters had no plans to act defensively. For both of them, an attack was the best form of defense. And this made it more thrilling for people who were watching live at the arena and at home. For anyone who viewed the thrilling fight, the most interesting part happened during the first round. Now, Silva, who is popularly known as "The Axe Murderer," walked threateningly to where Stann was. His eyes were glittering with delight, and the appropriate interpretation for this was, Silva could not wait to devour him while taking his time gradually.
Suddenly, Silva stopped in his tracks and made a gesture to Stann. And before anyone could say "Jack Robinson," Silva dealt the American with an intense combination of left and right punches which brought down the walls Stann had put up. This move by Silva was a very vicious one, and even till now, it has not left the minds of people who watched the fight. Interestingly, Silva's move has been employed in various advertisements even till this present day.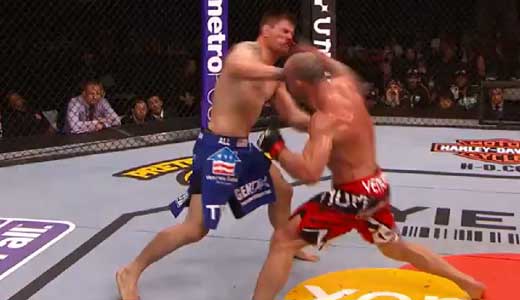 Eventually, Stann lost the fight, and that was the last time he would ever enter the ring. Some sources claimed that it was due to his loss to Silva, while others felt it was based on personal reasons. Stann's retirement came four months after his defeat to Silva. When Stann retired, he ventured into the commentary career path where he worked as an analyst for both UFC and Fox Sports. He worked in this position till 2017, when he decided to leave the job and venture into something else, a real estate professional.
For Silva, it looked like life took a downturn at him. Silva was supposed to take the drug test, which the Nevada State Athletic Commission made it mandatory for everyone. Silva ignored this directive, and he was punished for it. The Nevada State Athletic Commission banned him for a lifetime and also fined him the sum of $70,000. In some months later, eight months precisely, Silva was let off the hook. This meant that the lifetime ban had been lifted, and he would have the opportunity to take part in sports if he wanted to.
As expected, Silva made the decision to enter the ring one more time. And he would not only come back as a fighter, but he also signed up as a coach, learning the ropes before becoming a full-time coach. A few years later, Silva had his first fight after the lifetime ban was lifted. This fight was scheduled to hold at Bellator 180 against someone who was a familiar face, Chael Sonnen. Sadly, Silva lost this fight against Chael Sonnen, but fans were not really triggered by it. For them, seeing Silva enter the ring again was something they had waited for, for a long time. What's more, they were able to see him use some deadly skills that made him popular when he was still a top performer.