Craig Bongelli is counting his blessings after dodging another life-altering accident. But the local strongman has no plans to give up his favorite sport.
The 22-year-old Kitchener native was feeling lucky, buoyant and a bit embarrassed after passing out with a 360-pound Atlas stone in his arms during the 2012 Oktoberfest Bavarian Strongman Challenge on King Street last Saturday.
The co-owner and operator of True North Barbell buckled under the pressure of the fifth and final weight in the Atlas stone pentagram after passing out, but walked away from the hospital later that night with just a bruised arm and chest, not to mention a battered ego.
It could have been a lot worse. Doctors put Bongelli through a battery of tests — an X-ray, ultrasound and MRI — expecting he had blown out both his knees, broken some ribs and had blood in his lungs.
"I appreciate the concern, but I'm a bit embarrassed," he said after getting bombarded by interview requests from out-of-town media outlets as well as the usual local print, television and radio suspects. "And I feel bad for everyone, especially my girlfriend, because they were all freaked out about it.
"But I really wanted to lift that last stone."
The Atlas stone pentagram — five stones placed on altars at varying heights, which was making its Bavarian Strongman debut — is something Bongelli is quite familiar with. When he's in top form, Bongelli considers it one of his best events because of strong legs, back and long arms.
Bongelli believes Saturday was the fourth time he has competed in the event and before a severe wrist injury in June would train for it by doing two to three sets of up to 10 repetitions using a 340-pound Atlas stone.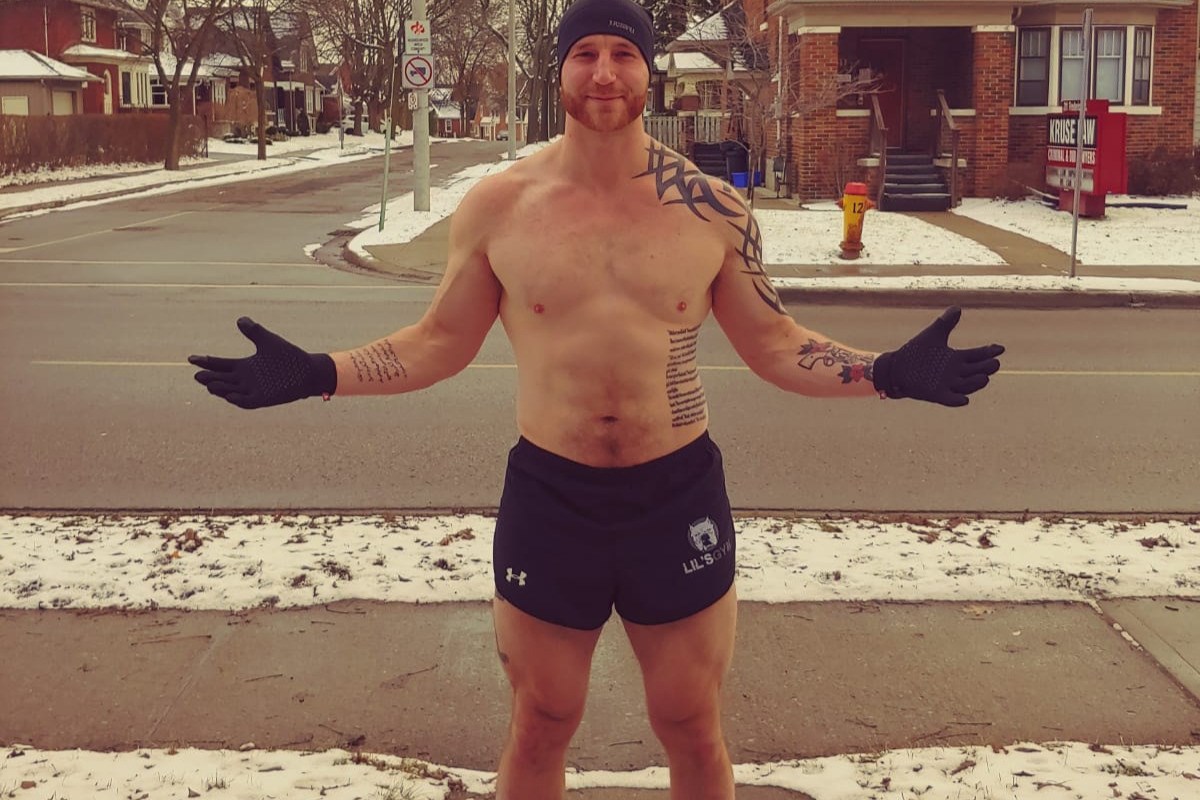 So don't expect him to give up the sport or approach the next Atlas stone pentagram event with caution after Saturday's close call. "I know that's not what people want to hear, but strongman is like a drag race," he said. "It's an all-out effort and you need to attack each event or there's no point.
"It definitely shook me up watching video of the accident . . . but a little bump isn't going to stop me. I'll be back training by the end of the week." Even seasoned strongmen are surprised Bongelli was able to walk away mostly unscathed.
"I've never seen something like that happen," said John Dungey, a former provincial-level competitor who hosts the Oktoberfest event through his company, Powerfest Productions. "I thought for sure he had torn both his (anterior cruciates) and maybe some other ligaments."
Not only that, Bongelli finished fourth in the Atlas stone pentagram and fourth overall, despite tying for the third-most points (51.5) with Ben Rucksthul. Brantford native Lance Lavallee, who works at the Toyota plant in Cambridge, was first with 62.5 points while Eric Rautenburg was second with 61.5.
Dungey said aside from the Bongelli's accident in the final event of the afternoon, the event went well and he hopes to stage both the provincial championship and Oktoberfest events —both were staged in Kitchener in 2012 — again next year if local support is still there.
"I think it's been well received, but it's always a challenge finding sponsors," he said. "We're hoping the community will step up and support us again." Bongelli would love the opportunity to prove himself again in front of a home crowd.
Aside from season-opening event in Belleville and the Oktoberfest meet, Bongelli missed almost the entire 2012 strongman campaign, including provincials in Kitchener after his accident in June — a sliced wrist during construction of True North Barbell which could have been just as fatal as his accident on Saturday.
The 6'2", 310-pound former boxer is also scratching his head as to why he's been able to walk away from two serious accidents in less than six months. "Someone must be looking out for me, because it just doesn't make sense," Bongelli said.
Worlds #Strongest Man's Chest Caved In By 360 Pound Boulder During Lift.#weights #training #lifting #powerlifting pic.twitter.com/hWfBPwp9RS

— Fight Haven (@FightHaven) September 20, 2021