A shocking video showed the moment that a young boy lost his cool with a barber after he claimed he gave him a disastrous haircut. The boy, who appeared to be ten, was furious to be left with a 'stripe' in his hair from a barber in Doncaster, South Yorkshire.
In the clip posted by David Brian Smithson, 34, the boy was being consoled by a member of staff. The boy appeared angry and close to tears and got up approached another staff member.
He attempted to punch him with his left fist and said, 'Are you taking the p***?' When separated the boy continued to complain about his new look.
A New York Street Thug Gets Eliminated By An MMA Trained Arizona Red Neck
The boy then stormed out of the store muttering that the barber was a 'f****** daft c***'. Ali's Supercuts said that the boy later turned up to the store with his mother and apologized for his outburst.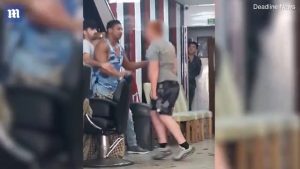 Mr Smithson, warehouse operative, said: 'He asked for a 1.5 on top but meant to say a 1.5 back and sides, so he left the hairdressers with a big stripe in the middle of his head. 'He came back about half an hour later with his hand over the top of his head demanding it gets sorted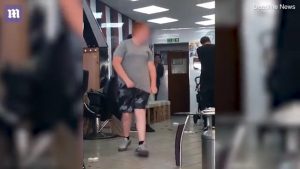 'He also brought his mum back with him.' Mr Smithson said he was shocked by how the child reacted. He said his own 10-year-old told the boy to 'stop raging' as he walked out.
He said that everyone found the whole ordeal quite funny. A barber from the shop said the boy was given the haircut that he asked for. The Ali's Supercuts barber said: 'I can't help if it's shorter than what he expected. 'It's hair anyway. It grows back.'
His Name Is "OG Money" And This Is What He Did To The #Barber That Messed Up His Hairline#haircut #fight #mma #ufc pic.twitter.com/z4n4SZFwGl

— Fight Haven (@FightHaven) September 27, 2021