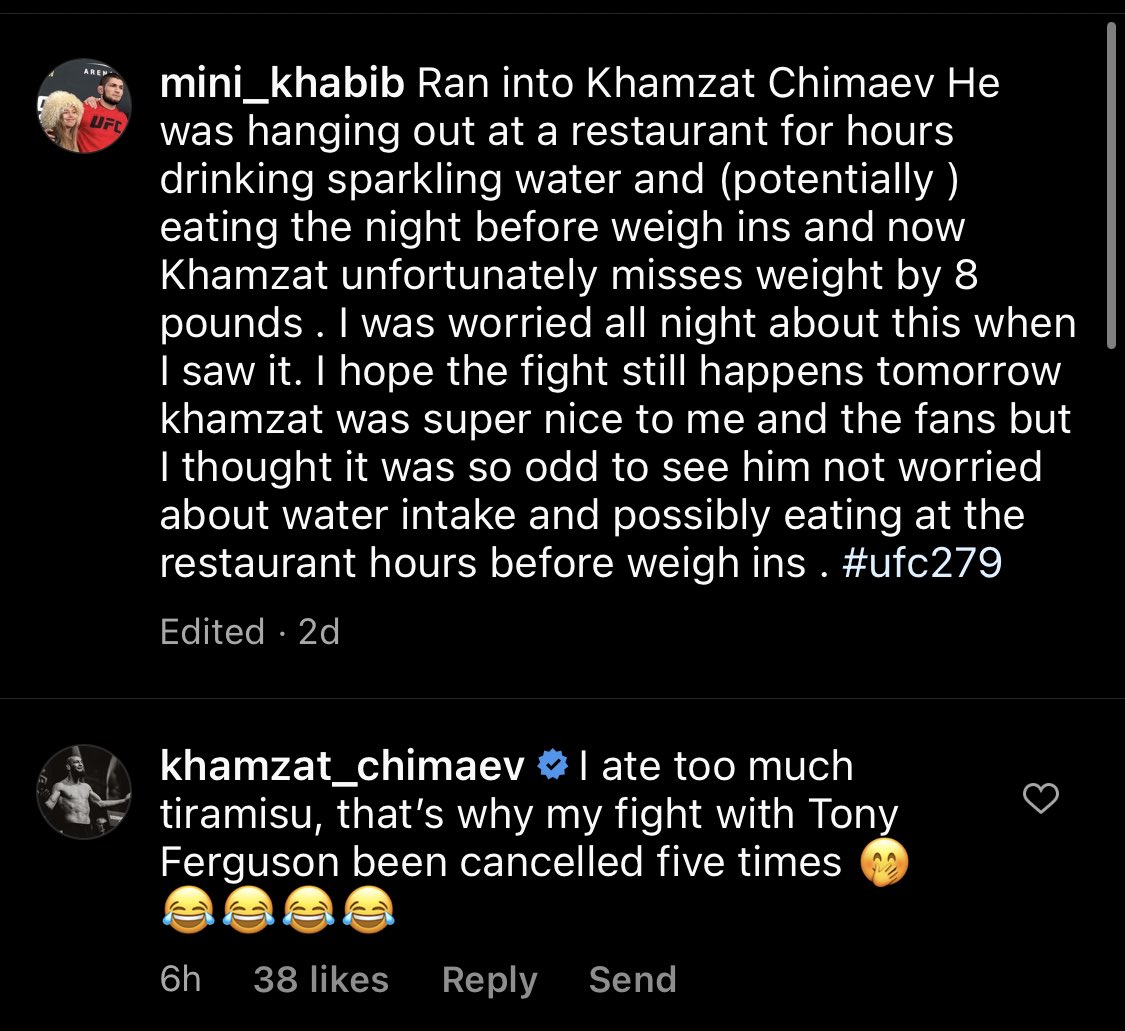 Darren Till has reacted to Khabib Nurmagomedov's criticism of Khamzat Chimaev at UFC 279.
It was just last Friday, September 9th, that Chimaev missed weight by 7.5 pounds sending the UFC into a tailspin trying to figure out their main card match-up.
It was to have been Khamzat Chimaev (12-0 MMA) vs Nate Diaz (22-13 MMA) in a welterweight bout on September 10th at the T-Mobile Arena, in Paradise, Nevada.
That was not to be…. Chimaev ended up fighting Kevin Holland (23-8 MMA) and Diaz took on Tony Ferguson (26-8 MMA. 'Borz' and Diaz both came out on the winning side of their new opponents.
It was at a charity event where Khabib Nurmagomedov sounded off on fellow Muslim MMA fighter Khamzat Chimaev.
Speaking about the UFC 279 weight debacle and Chimaev's subsequent disrespectful behavior, 'The Eagle' believes that 'Borz' is not surrounding himself with the 'right' people.
Khamzat Chimaev showed no remorse for missing weight and took to giving fans 'the bird' at UFC 279.
Darren Till, Chimaev's training partner, weighed in on Nurmagomedov's comments, speaking to ESPN MMA, he said (h/t Sportskeeda):
"Khabib's missed weight like five times, man. Like, he's got good people around him. We are not coming out now saying… What because me and Khamzat have a bit of fun on camera, being a bit wild; does that mean that I'm not good peoples or his coaches aren't good peoples."
Continuing Till addressed the criticism Chimaev has received from Khabib and others in the MMA community:
"Like, his Brazilian Jiu-Jitsu coach is one of the best grapplers of all time. He's not Muslim. Does that mean he's bad peoples. As much as I do respect Khabib as a person and a fighter, I just don't respect him coming out with comments like that. And other people as well."
Darren Till, 'The Gorilla', (18-4 MMA) is scheduled to get back in the Octagon this coming December when he meets up with Dricus Du Plessis (17-2 MMA) in a middleweight fight at UFC 282 in Las Vegas.
After being criticized by Khabib Nurmagomedov for failing to make weight ahead of UFC 279 last week, Khamzat Chimaev hit back with some shade of his own.
The undefeated UFC fighter, who weighed in 8.5 pounds over the contracted welterweight limit of 170 pounds, responded to a fan who claimed to have seen him "hanging out at a restaurant for hours" the night before UFC weigh-ins took place by referencing Nurmagomedov's own weight cut issues in the past.
"I ate too much tiramisu, that's why my fight with Tony Ferguson been cancelled five times ," Chimaev said in a since-deleted post on Instagram
Chimaev's comments came a day after Nurmagomedov stated that the Chechen fighter's dietary issues were due to a lack of Muslims in his fight camp. "If you are a Muslim, you should have good people around you – Muslims who can say: 'Hey, don't do this.
I recently watched the weigh-in of Khamzat Chimaev. I followed what was happening with his weight and looked at his team. There are no Muslims around him and this is very bad. Because if you are a Muslim, you need good, strong people around you. [They] will say:
"Come back, do this," Nurmagomedov said at a charity event in London.