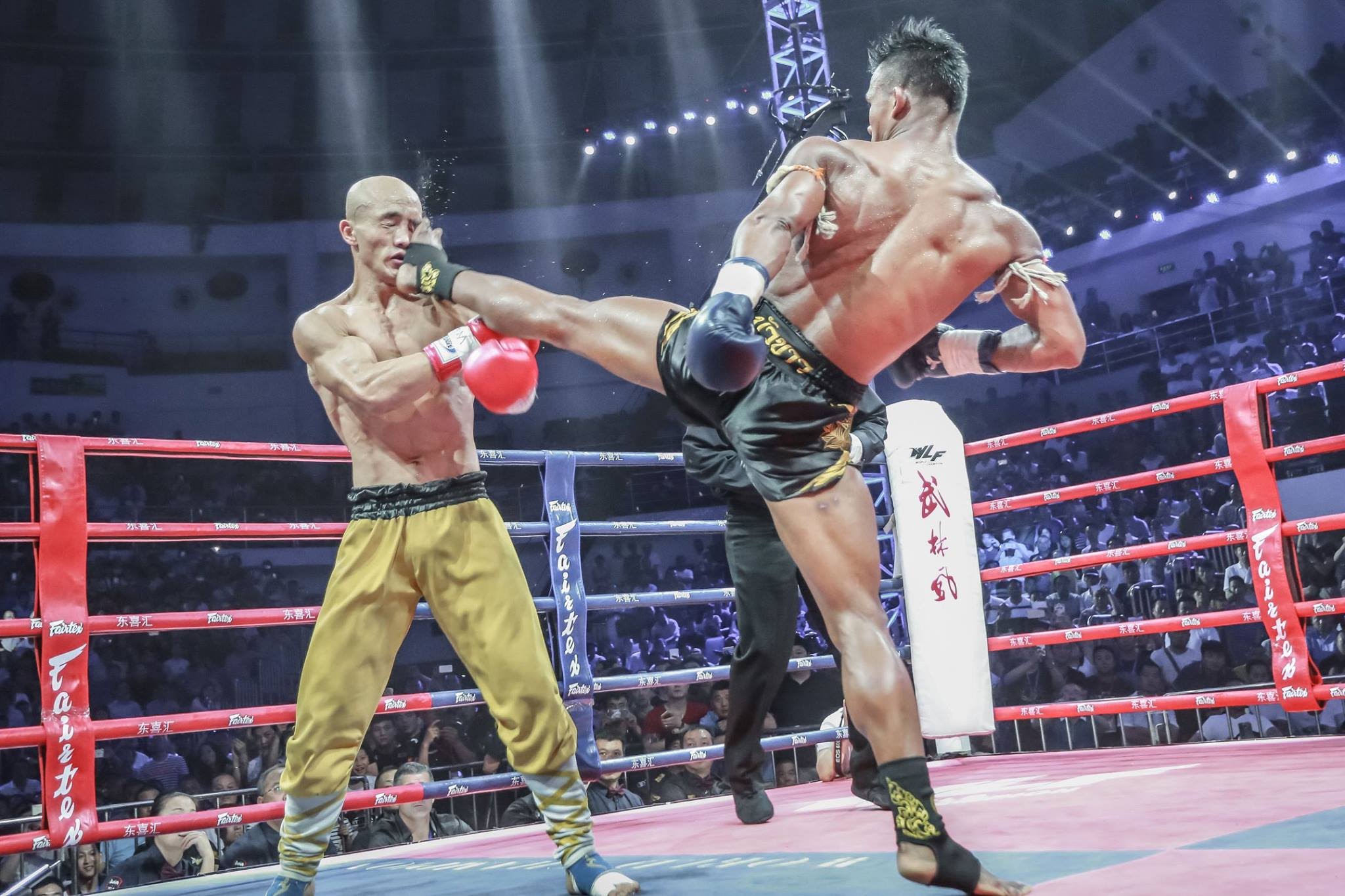 Combat Press 2016 Kickboxing Awards: Robbery of the Year – Yi Long vs. Buakaw Banchamek Back to 2015, when Kung Fu met Muay Thai in a remarkable display of skill. This was the fight between Buakaw Banchamek and Yi Long "The Shaolin Monk". This fight was awarded as the "Fight of the century". Millions of people from Asia and around the world watched the dispute as two fighters from two different martial arts were in front of each other, five years ago.
Sombat Banchamek is also known as "Buakaw Banchamek and Black Gold", Buakaw means "white lotus". He is a Thai middleweight Muay Thai kickboxer. He was born on May 8, 1982, in Samrong Thap, Surin, Thailand. He is 38 years old. He has Thai nationality. His height is 5 ft. 8 1/2 in. and weight is 71.5 kg.
He belongs to the Featherweight, Lightweight, Welterweight and Middleweight divisions. His fighting style is Muay Thai. He is fighting for Surin, Thailand. His mentor is Lt.Teerawat Yioyim. He was associated with Pro. Pramuk Gym (1997-2012) and now with Banchamek Gym (2012-present). His Muay Thai record is 239 wins 24 losses and 12 draws.
Yi Long is also known as Faquir Yi Long and Shaolin Monk. He is a participant of Chinese Wushu. He was born on April 1st, 1987 in Dezhou, Shandong, China. He is 33 years old. He has Chinese nationality. His height and weight are 5 ft. 9 1/2 in. and 73.5 kg respectively. He is attached to Welterweight and Lightweight divisions. His fighting style is Shaolin Kung Fu, Wing Chun, and Muay Thai. He is associated with Yi Long Ao Yu Fight Club.
He was the 2007 Guangdong Foshan International Wing Chun Champion. The 38 years old Buakaw also had a period of his life as a professional soccer player in the
domestic Thai League. Buakaw and Yi Long are well known in their fighting arena and need no introduction. Yi Long had been crowned World Champion in the Wu Lin Feng, WCK, and S-1 competitions. The duel between these two was a sight to see.
The first round went very energetic. Yi Long voluntarily allowed Buakaw to hit his face with a punch. So that he could counter-attack on him but unluckily it went wrong. In this round, Yi Long came out with powerful punches and kicks that sent Buakaw to the canvas twice. The Chinese fighter's home crowd was supporting him a lot. But Buakaw, the guru of his field, recovered the situation soon and found his way. Both of them were giving their best in the ring and trying to take over one another. No one gave up till the last round. So after fighting for the three rounds, the winner was decided on the points.
After the bloodshed fight, victory was awarded to Buakaw on points. But the clash between the two was meant to last longer and so a rematch occurred in 2016 between these two fighters. In this rematch, the actual decision was reversed, with the victory of Yi Long. People considered it a wrong decision.
Yi Long, Shaolin Monk – Fights in competition, very rare and impressive. #kungfu
After two rematch sessions, another frizzling match was on the card for the fighting lovers. In coming October, Buakaw would be ready to give his promotional debut for the MAS fight. Organizers held a Press Conference on 11 March to officially announce the upcoming battle. This Press Conference was held by MAS fight CEO Mr. Tony Chen and director Mr. Sasan Ghosairi.
Muay Farang – Muay Thai NewsYi Long Archives – Muay Farang – Muay Thai News
This will be the one round contest of 9 minutes in standup combat, in which knees, punches, kicks, throws, and elbows are all allowed. In this fight, there will be no judges to score the points. Victory will be based on the knockout only.
"I don't want to talk about the results of the past fights. I am definitely looking forward to this fight. I think the MAS rules are very fair… The goal is to knock him out because it is the only way to win", said Buakaw. But unfortunately, the latest update was that the fight was on pending after Yi Long's injury during training for the upcoming event.