Leon Edwards isn't going to pick and choose who he faces as champion.
"Rocky's" life changed forever at UFC 278 in Salt Lake City, Utah, two weekends ago. The Birmingham, England resident has found himself involved in several notable moments in recent years during his rise to fame, however, he was more on the wrong side than the right.
Even in dominant victories such as his June 2021 unanimous decision against Nate Diaz, the bout is mostly remembered for Diaz nearly pulling off a comeback in the fight's final moments.
Coincidentally enough, Edwards succeeded with his mid-fight comeback attempt to capture the title this recent time out.
Now, Edwards has some options as champion. One of the more fan-friendly choices has been brewing for years and that's a clash with two-time UFC welterweight title challenger, Jorge Masvidal.
Darren Till has admitted that Leon Edwards' first title defense as welterweight champion would be bigger if he faces Jorge Masvidal in England instead of Kamaru Usman.

In a new tweet, Till delivered his thoughts on what would be a bigger fight for the Brit when he competes in his home country:
EdwardsXMasvidal in England is bigger than EdwardsXUsman in England in my opinion…

— D (@darrentill2) August 30, 2022
Edwards and Masvidal have been embroiled in an intense rivalry since their altercation in 2019 after Masvidal beat Till at UFC London. 'Gamebred' was doing a post-fight interview following the win when he found himself exchanging words with Edwards.
Masvidal proceeded to throw punches at 'Rocky', which he later termed a "three-piece and a soda."
"Yeah, 100 percent. That's on my list," Edwards told The Jim Rome Show of a Masvidal pairing. "But at the moment, Jorge, he's on like a two-three fight losing streak.
He needs to go out there, get some wins and make the fight make sense. That's a fight I think would be massive for the UFC. To get my revenge on him, I cannot wait."
An Edwards vs. Masvidal fight wouldn't be a rematch but most certainly a continuation of some unfinished business. Beginning his own rise to fame in 2019, Masvidal scored a big knockout over Darren Till in London that eventually led to him claiming the label of Baddest Motherf*****.
That same night, Edwards also saw his hand raised, and at the end of the night, things got heated backstage and Masvidal coined the "three-piece and a soda" after landing a combination on Edwards.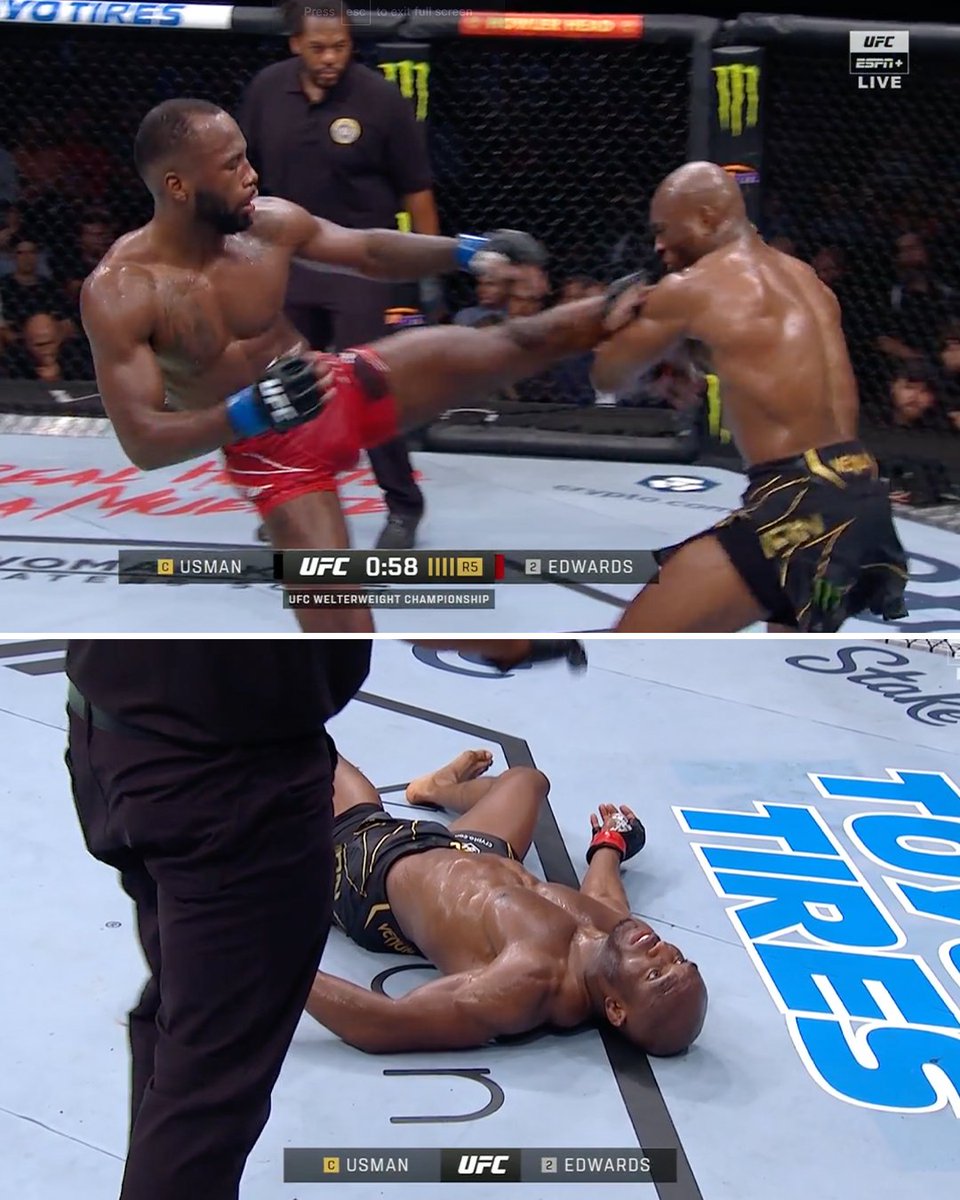 The pair were supposed to collide as recently as UFC 269 in Dec. 2021 but injury pulled "Gamebred" from the slot. Masvidal then went on to battle former best friend turned bitter rival, Colby Covington, in what turned out to be a third consecutive loss.
"I think Usman is deserving of the trilogy," Edwards said. "I'd love to have it back in the U.K. In Wembley would be good. The O2 would be good in London.
But yeah, I'd love to give him the rematch. Run it back again, let's settle the score.
"[The kick was] kind of like a hot knife through butter, just perfect (laughs). There was no pain, there was just a perfect impact. I see the way he folded over and I went to go for some ground and pound but he was already out. It was a fantastic moment."