UFC middleweight champion Israel Adesanya has predicted the outcome of his former rival's clash on the UFC 276 main card this weekend. Alex Pereira, the only fighter to knock out Adesanya in kickboxing, has quickly moved into the spotlight following two wins in the UFC.
If he manages to defeat Sean Strickland (#4) this weekend then Pereira will likely earn the next shot at the UFC Middleweight Championship and set up a fascinating rematch if Adesanya is also successful in his title defense this weekend.
Speaking with Alexander Volkanovski in a recent YouTube video, Adesanya shared his thoughts on Pereira's rise and compared how quickly other fighters had become UFC champions.
"Obviously, elephant in the room — 'Pereira is the only guy to beat Izzy, blah, blah, blah,' Adesanya said, referring to the narrative. "Sometimes they say that it's too fast, too fast to push, they said about me.
But look, Jiri [Prochazka] just became the new light heavyweight champ after fighting twice in the UFC. In his third fight in the UFC, he became the light heavyweight champion.
"I think Brock Lesnar did the same thing. Anderson Silva did it in his second fight but after an extensive career in MMA outside the UFC. Alex has an extensive career in kickboxing outside the UFC. MMA I don't know really know much about."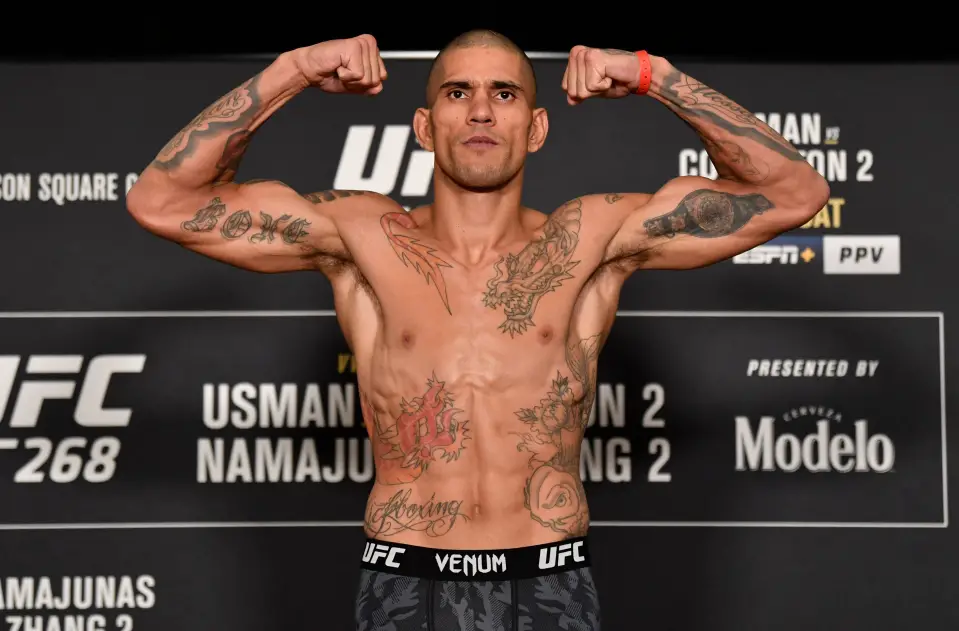 Pereira has a tough opponent this weekend in Sean Strickland who has won six consecutive fights, however. Adesanya also commented on Strickland, sharing why he'd never spar with the middleweight contender.
"Sean Strickland is a bad motherf—er," Adesanya said. "Like literally bad, rotten apple, but I like the guy, he's funny, and he likes to talk shit as well. His stand-up, ugh, I've seen him do more damage on YouTube in sparring than in his fights, put it that way. I've seen his sparring footages and I'd never spar with an idiot like that.
Strickland is set to meet the former two-division GLORY kickboxing champion on Saturday at UFC 276. The controversial American is a perfect 5-0 since moving up to 185 pounds and is currently MMA Fighting's No. 8 ranked middleweight in the world.
Pereira, on the other hand, is the owner of just five total wins throughout his entire MMA career, and enters the pay-per-view bout sitting just 2-0 in the UFC without a single victory over a ranked foe.
Despite that inexperience, UFC president Dana White already made it clear that Pereira could be next in line for a title shot against the winner of Israel Adesanya vs. Jared Cannonier if he manages to get past Strickland, if only because of the history Pereira and Adesanya share dating back to their kickboxing days.
And it's safe to say Strickland understands exactly why the UFC targeted him as the man to test Pereira at UFC 276.
"If we learned anything about UFC rankings, [they] mean nothing," Strickland said Wednesday at UFC 276 media day. "At the end of the day, it means nothing. He's the one that knocked out Izzy, so it's like here's what you can do:
You can have him go and then he'll eventually fight a wrestler who will take him down and beat him, and then they'll never get the Izzy shot, or they could be like, 'Hey, why don't we have him fight Sean? Sean doesn't like to wrestle. Maybe if [Pereira] beats him, then we could float him to the top.'
pereira kos sean strickland #ufc #knockout #ufc276 pic.twitter.com/wshfirUwBo

— 🥊 (@ufcxhighlights) July 3, 2022