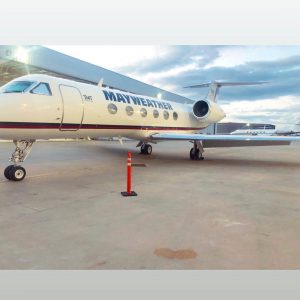 Floyd Mayweather is flaunting his wealth on Instagram yet again — and this time it's with a series of photos, posted this week, showing off his private jet, dubbed "Air Mayweather."
The retired boxer's jet appears to be a Gulfstream G650, which has a $60 million price tag and a long-range cruise speed of Mach 0.85, or 650 mph (1,050 kilometers per hour).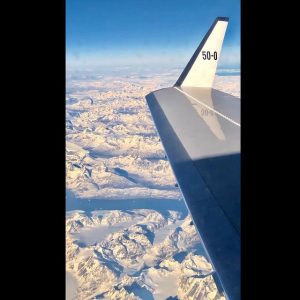 Mayweather got the new jet for his 41st birthday last year and has flown across the world in it — including to Hong Kong, Turks and Caicos Islands, Monte Carlo in Monaco, Dubai, Singapore, Bali, and Bangkok, according to his Instagram stamps.
He reportedly even flew to Iceland just to take an Instagram photo, and it looks as if he did the same in Paris and Russia too.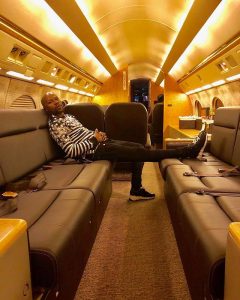 Mayweather, who has earned over $1 billion in career prize money through boxing, dominates the best-selling pay-per-view fights in combat-sports history, has a property empire so ambitious it apparently includes a skyscraper project in New York, and owns the Mayweather Boxing Club and the Girl Collection strip club in Las Vegas.
Air Mayweather appears to have an extravagant interior, with flat-screen televisions and gold cupholders in tables by its leather seats. It looks like a luxurious ride, wherever the retired boxer chooses to fly.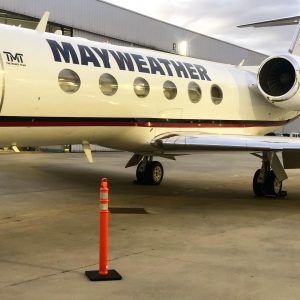 Boxing legend Floyd Mayweather Jr. made his biggest and easiest payday of his life last summer when he walked through Conor McGregor not taking any damage and getting his first knockout victory in over 10 years while being 40yrs of age.
Floyd reportedly took home more than $350 Million dollars for that fight. Since the payday, Floyd bought in cash a new $23 million dollar Beverly Hills Mansion, a $12 million dollar Miami mansion.
A $4 Million Dollar Siberian Tiger to add to his collection of Tigers and for his latest purchase, he's bought his 2nd Private Jet for a whooping $60 Million Dollars and he bought all these things in cash.
So if Floyd ever is to go broke, nobody can take any of his purchases from him cause he owns them and can cash out at anytime bringing himself back in the green.
According to Forbes, Floyd has only had to items financed in the past 15 years and those were before he started making big money, since then his credit report is the same as someone who doesn't have any credit. Now that's impressive.
Welcome to "Air Mayweather" @FloydMayweather's new $60 Million Dollar Jet pic.twitter.com/PGNWvrmx49

— Fight Haven (@FightHaven) August 6, 2022