If you're wondering why the above looks like a bizarre mishmash and mismatch of names, then don't worry, that just means your brain is functioning properly. This past Wednesday, Epic Fighting Championship put on not just a show with 2 vs. 1 matches and intergender matches.
They merged the concept for this card's opening bout that featured a woman fighting a 75-year-old man and his grandson (known as "Big Igibob").
Surprisingly, Yulia Mishko actually shows some good instincts in the fight, not allowing her opponents to cut off the cage and staying patient throughout. She actually starts landing some bombs in Round 2 and oh my goodness why am I commenting on this as if it's an actual thing???
You can watch the whole show for yourself on YouTube, but be warned, this is only the icing on an indigestible cake. Luckily for us, if you only want a small slice, several clips were uploaded to Twitter by the ever-resourceful @Matysek88.
Mishko ends up going to a draw with the pair, which wouldn't happen under unified scoring rules as she clearly landed the most damaging shots of the fight. It's a safe bet that Vladimir Spartak and Igibob had an advantage in total strikes though.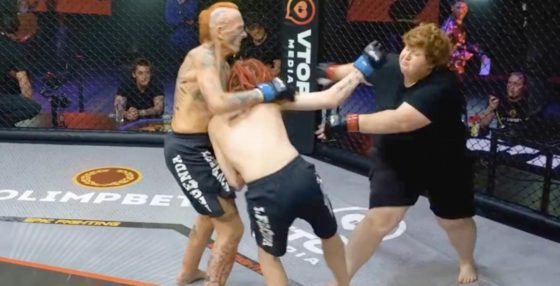 Up next was another 2 vs. 1 match, this time featuring Vitaly Bykov taking on Ramzan Amsadoev and Vladislav Popov. And remember what I said, we're only sinking lower into the depths here, folks.
The fight barely starts before one of Bykov's pals (presumably) jumps into the cage to even the score, which somehow does not make this a no contest and the bout just continues from there.
Credit to Amsadoev and Popov once the fight gets going, they use the tried-and-true tactic of one fighter holding while the other punches, pioneered by Fight Circus' Bank and No Money.
It doesn't last though as Popov somehow gets disqualified (I can't imagine what could possibly be considered breaking the rules in this kind of contest), leaving Amsadoev alone to get submitted by Bykov.
Remember Grigory Chistyakov? Of course you do. He's the large man who lost a fight to a much smaller woman back in November 2020, with that fighter Darina Mazdyuklater later signing with Bellator and making an unsuccessful promotional debut this past October.
Well, he's slimmed down to 200 kg. (approx. 440 pounds) for a fight with another woman, Aleksandra Stepakova, who tipped the scales at 52 kg. (approx. 115 pounds). It's a dull affair beyond the freakshow aspect of it and Chistyakov ends up winning a decision, so we don't even get the satisfaction of David dropping Goliath here.
Listen, this is Missed Fists, we don't judge, but we may have to put a moratorium on these kinds of gratuitous stunts and contrived brawls for the time being as the gimmicks are becoming more and more transparent and less and less fun.
So as always, nothing but respect for anyone who decides to try their hand at fighting, but maybe promoters don't need to be throwing these untrained people into a cage just to make a buck.